R3
Barbera d'Asti Superiore DOCG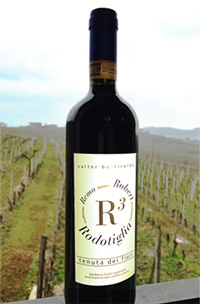 VARIETAL: 100% Barbera
ALCOHOL: 14,5% • YEAR OF PLANTING: 1941
CLUSTER THINNING: 40% redution by thinning out the bunches in early August.
FERMENTATION: stainless steel tanks under controlled temperature for approx. 12 days.
AGING: in 20 HL piedmontese barrels made in French oak for 12 months, followed by at least 12 months in the bottle.
LONGEVITY: this wine will certainly improve with the years but in my opinion will give his best in 10 years.
FOOD PAIRING: all our traditional starters, egg pasta (tajarin), ravioli and veal stews.
---
CHARATERISTICS
Rodotiglia naturally gives to Barbera grape a particular longevity.Vines are over 70 years old and it means a reduction of the production that increase the natural quality of every single grape.This Barbera is aged in the big traditional piedmontese barrel (20hl) but using french oak. Colour is always a thick ruby red with a purple rim.The nose is an explosion of intense and diverse flavours, rich and sweet, with little black fruit blending and a fresh cherry in the final. On the palate, this wine is also rich in extract, with thick texture, moderate tannins and high freshness. It develops over the years, following the natural evolution gived by the slow aging in the big barrels.